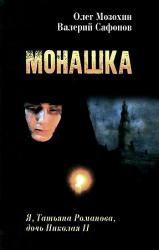 Print Books
Price: $
Availability: In stock
Monashka : ia, Tat'iana Romanova, doch' Nikolaia II : dokumental'naia povest'
Nun: I, Tatyana Romanova, Daughter of Nicholas II: Documentary Story
Монашка : я, Татьяна Романова, дочь Николая II : документальная повесть
Product Details

Product #

Author(s)

City

Moskva

Country

Russia

Language

Russian

ISBN

9785448442117

Date of Publication

2023

Publisher

Cover Type

Hard cover

Pages

468

Subject

Subject

Product Details in Original Language

Description

Nun: I, Tatyana Romanova, Daughter of Nicholas II: Documentary Story

Перед окончанием Великой Отечественной войны органам госбезопасности стало известно о якобы чудесным образом спасшейся во время расстрела царской семьи дочери Николая II Татьяне, которая под именем инокини Таисии служила в женском грекокатолическом монастыре Святого Василия Великого на Западной Украине. Об этом воскрешении немедленно было доложено наркому внутренних дел СССР Л.П. Берии. В повести на основе архивных документов описано, как под его руководством проводилась проверка показаний воскресшей Татьяны, а также история жизни царской семьи после отречения Николая II от престола.