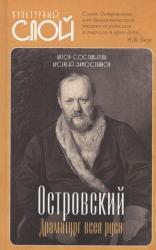 Print Books
Price: $
Availability: In stock
Ostrovskii : dramaturg vseia Rusi
Ostrovsky: Playwright of All Rus'
Островский : драматург всея Руси
Product Details

Product #

Author(s)

City

Moskva

Country

Russia

Language

Russian

ISBN

9785002221349

Date of Publication

2023

Publisher

Cover Type

Hard cover

Pages

398

Subject

Subject

Subject

Product Details in Original Language

Description

Ostrovsky: Playwright of All Rus'

Островского по праву называют отцом русского классического театра. Драматург творил во времена высшего расцвета русской литературы, и стал достойным современником таких глыб, как И.С. Тургенев, Ф.М. Достоевский, Л.Н. Толстой. Как менялись политические, эстетические убеждения Островского? Какое влияние на современников и потомков оказали его пьесы? В чем их актуальность в ХХI веке? В книге есть ответы на эти вопросы. В последние годы классик, создавший русский театральный репертуар, стал злободневнее. Ведь он писал о доходных местах, о взятках, о том, как предприимчивые дельцы женятся на приданом. Не поняв Островского, никогда не разобраться ни в русском купечестве, ни в современном капитализме.